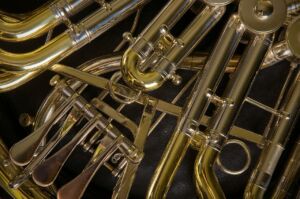 David Kippen | 14 April 2020
Today, the Budapest Symphony Orchestra live-streamed Gustav Mahler's spectacular Second Symphony. Mahler's Second is an expensive symphony to mount. It requires a full choir, vocal soloists, eight trumpets, eight horns, huge lower brass and percussion sections and additional strings to match. But while the music is spectacular, what struck me about this performance today was how oddly out of touch the act of performing itself was with this moment we're living through.
All the musicians were crowded together on stage. The size of the orchestra ensured that social distancing wouldn't have been possible, at least on this stage. The concert hall was full; every seat was taken at each level. And nobody, not a single musician or concertgoer, wore a mask. (Also odd: in the middle of a work day, in the middle of a work week, I was watching a live feed of a concert.)
While the Mahler was playing on my second desktop, on the television (also strangely on in the middle of the workday), California's Governor Gavin Newsom was outlining the contours of the first tentative plans for reopening California's massive economy.
For all the fear and uncertainty, this lockdown has had a sad but resilient spirit of "we're all in it together." Much of advertising has risen to the moment. For me, Idris Elba's reading of John Greenleaf Whittier's "Don't Quit" for the BBC comes closest to capturing the mood of the moment. But watching this concert, probably the last "live" concert I'll see in a long time, brought home to me how difficult this abstract idea of reopening the economy will be. What does normal look like if you're a symphony orchestra? A ballet? A restaurant?
The New York Times, reporting on Commerce Department data, showed a stunning plunge of 8.7% in month-over-month spending from mid-February to mid-March. A recent survey from The Conference Board offers an equally stunning snapshot of CEO sentiment. (Thanks to Dr. Joe Zeniah for bringing these data to my attention.)
According to their survey:
95% expected to cancel, curtail or ban business travel
89% expected Covid to impact sales and profits negatively
Those responses make sense during the crisis and the immediate aftermath. More troublingly, the report also said CEOs planned to:
Cut other costs in business to hold margin (78%)
Postpone investment decisions (78%)
Lower investment activity (76%)
Lower productivity (65%) and reduce or furlough workforce (54%)
Those numbers are high. But what's really alarming about this sentiment is that, as Nobel Prize-winning economist Paul Krugman keeps reminding his readers, the fundamental truth of a market-based economy is that your spending is my income, and my spending is your income.
If one sector stops spending (airlines, or automotive for example), that's obviously painful for their supply chain in the short term. In the long term, however, that supply chain will disaggregate and find other buyers.
But if all spending drops (and 78% of major business leaders are planning to cut costs, i.e., spending) and consumers, which are the engine of at least the US economy stop spending (which will continue if 54% of large businesses institute additional reductions or furloughs), it's clear that the idea of reopening the economy will be much more reliant on sentiment at all levels than on the authority of any particular government agent.
Today, in the middle of the journey, while still within a dark wood where the straight way is lost. Ah, how hard a thing it is to tell what a wild, and rough, and stubborn recovery this will be. With apologies to Dante (and Mahler), while we hope for the resurrection of life as we knew it, it seems we must first endure a long, solitary journey through this inferno.
###
Dr. David Kippen serves as Chief Strategist and CEO of Evviva Brands. With a background spanning advertising and communications and a client base spanning the globe and including top brands in every sector, Dr. David Kippen is a world-renowned leader in brand strategy.  David's past clients include Alaska Airlines,  Amazon, Ameriprise Financial, Antioch, California, Bain & Company, Blackrock, Burger King, Chevron, Coca-Cola, Dell, Delta Air Lines, Dignity Health, Disney, Energy Recovery, Flipkart, Google Fiber, HP, HSBC, General Mills, Intel, Kentz,  Lam Research, Marriott International, Methanex, Moss Adams, Microsoft, Nokia, Premera Blue Cross, Teva, T-Mobile The Ritz-Carlton, Webasto and Xilinx. 
Phone: (415) 320-9777
Email: kippen@evvivabrands.com