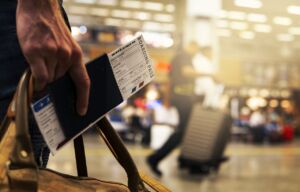 Susanna Forrest | November, 2022
Before the pandemic, the corporate sector made up a third of the travel industry's revenue. As flight bans took hold, video meetings became the new normal, and in 2020 McKinsey reported that business travel expenses had plummeted by fifty-two percent. This spurred conversations about permanent changes to business travel, partly driven by environmental concerns. Even Boeing CEO David Calhoun was telling the New York Times he would fly less. For an industry that's been shaped by corporate travel, a rethink was needed.
We've seen that in our own work. Luxury Gold, The Travel Corporation's marquee brand, asked Evviva to rebrand them so they'd be ready when their guests returned to travel. We completed this rebrand in late 2021. And in 2022, we've been conducting research and brand positioning work to help Delta Air Lines find and attract more pilots and flight attendants.
This year, travel for leisure recovered healthily, and the International Air Transport Association say there will be more passengers in 2024 than in pre-pandemic years. But despite the headlines about "road warriors" returning to the business lounge and trouser press, corporate travel has had, as McKinsey put it, "an uneven recovery". A recent Global Business Travel Association poll (PDF here) found that North American and European domestic travel bookings were at sixty percent of pre-pandemic levels and international trips at fifty percent.
Dig in at a more ethnographic level, and you'll find both flux and some surprising new leads and opportunities for place and employer branding as well as the travel industry itself. There's plenty more work to be done.
Remote and hybrid workers have eliminated commuting, not business travel. They will still travel to meet colleagues and clients, attend conventions and courses, probably staying for several days of meetings to get the best value from their budget.
This workplace flexibility has created a new "bleisure" traveller who adds a day or a weekend to their business trip to hang out and explore. Cities that have leaned on business travel and seen a fall in revenue need to rebrand as a different kind of destination, reaching out to both bleisure and leisure travellers.
The Society for Human Resource Management notes that corporate retreats are reappearing on company calendars because remote workers need to bond with colleagues and get a greater sense of connection to their organizations.
Businesses that appreciated their pandemic savings not just in terms of expenses, but also in getting closer to their ESG goal, can find new ways to travel according to the World Economic Forum. Sustainable aviation fuel is bridging the transition from fossil fuel to hydrogen and electric, and passengers can make greener choices by travelling economy, where their carbon footprint is smaller. In Europe, high-speed and new overnight "hotel-style" trains offer a further alternative.
Parents have found it especially hard to get back on the road with a childcare shortage and kids who are used to their constant presence in an upside-down world. Some companies are making it possible for employees to take children on business trips. If the archetypal "road warrior" is no longer a lone exec but instead a parent with a toddler or teen this could be an interesting potential niche for the hotel industry. Other firms are expanding childcare subsidies to retain parent employees.
Overall, the "uneven recovery" is creating a more interesting landscape and certainly does not lack momentum. The Global Business Travel Association's latest Business Travel Recovery Poll of nearly 600 corporate travel managers found that a healthy majority thought that, despite a potential economic downturn, business travel would only increase.