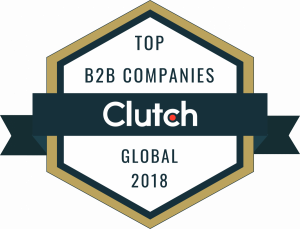 We have a lot to be thankful for this year: having a talented internal team, incredible clients, and an ever-expanding skillset of branding services. And there's one more thing to add to that list; our most recent distinction from Clutch as a member of their elite Clutch 1000 in 2018. The team at Evviva Brands is flattered, honored and excited to be named 302 on the Clutch 1000 for 2018!
Evviva Brands created a Clutch profile a few years ago to boost our brand recognition, connect with potential clients, and see where we stand among agencies in our markets. The reviews our business partners have provided have been really valuable for the Evviva team. We not only learn about where our clients find value, where we're skilled at as a team compared to others, but we also get to learn about how we can best invest to grow our services where clients need them. Hearing client comments has been a strong motivating factor for Evviva to keep doing what we do best:
"They brought a wide, in-depth lens to the project that other vendors couldn't.
– Senior Director of Marketing, Telecommunications Company

"They took the time to understand our needs and delivered above expectations."
– Director, Semiconductor Company

"Evviva is very direct as to their recommendations of what they would do and not do, and I really appreciate that."
– VP of Marketing, Services Company

"The best marketing team I've ever worked with."
–CEO, Energy Company
With our strong score on Clutch and our positive client reviews, Evviva has been able to maintain a top spot in the Clutch directory of the best brand consultants worldwide. We're also featured on their sister-site, The Manifest, amongst the leading branding companies in San Francisco and The United Kingdom in 2018.
We're proud of our distinction on Clutch and The Manifest and hope to continue our upward trajectory on their platforms as a top branding agency. Looking to 2019, Evviva has full confidence that our client relationships and the projects we already have in our queue will help us to remain a global leader for any company's branding and design needs.
About the Clutch 1000
It's the first time that the third-party online reviews site has announced a Clutch 1000 list which ranks the top 1000 companies on their platform according to 'market presence' score only. Now, not only are we being compared to other branding agencies, but we have to stand out as a leading B2B agency across every industry that Clutch covers on their platform.